Træfik, reverse proxy, HTTPs and more
I stumbled upon Træfik last week while working with a client. It is a lightweight, robust HTTP reverse proxy and load balancer.
Træfik is simple enough to get started with, within minutes and offers a variety of features such as:
Deploy Traefik using a tiny go binary or docker image.
Serve as a reverse proxy for multiple micro-services.
Supports several back-end systems such as Docker, Kubernetes, Consul, Amazon ECS and more.
Reload configurations without restarting process.
Add proxy SSL support with Let's Encrypt.
Add load balancing.
Provide access logs and metrics; dashboard with a clean UI
Cluster mode for high availability.
To sum it all up, Træfik is a great tool to serve and manage multiple micro-services or web applications while ensuring high availability, fast speed and continuous deployment.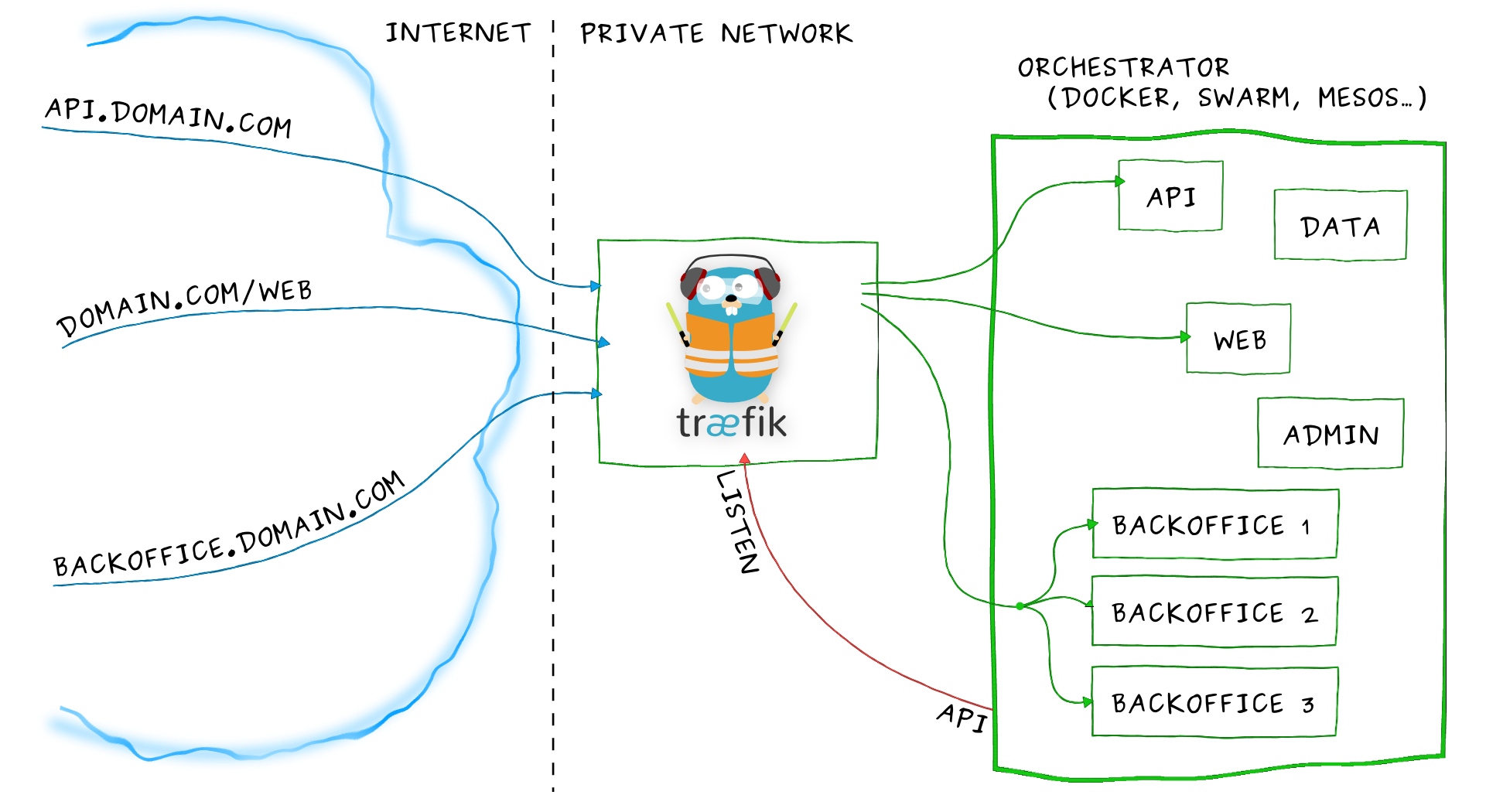 © https://traefik.io/
To demonstrate the robustness and simplicity of traefik, we will try to setup two services with reverse proxy and SSL support. We will host the services on different subdomain on a local machine.
What are we aiming for?
Setup gitlab and nextcloud on a local machine on different subdomain with SSL support to demonstrate dynamic config reload, docker backend support, proxied SSL and reverse proxy capabilities of Traefik.
gitlab is an open source VCS similar to github
nextcloud is open source file host similar to dropbox
I picked up gitlab and nextcloud for this exercise because these are two prominent services often deployed within an organization for internal use and can be a nuisance to setup as both compete for port 80, gitlab offers SSL support out of the box whereas nextcloud depends on a reverse proxy for SSL support.
As Traefik supports docker among several other back-end systems, we will attempt docker based deployment of these services.
What do we need to begin?
Before we being, we'll need docker host up and running on the target machine, SSL certificate and key (self signed or otherwise) and some free time to glance through Traefik docs.
To generate a self signed certificate, check out: https://devcenter.heroku.com/articles/ssl-certificate-self
Start deploying microservices
At this point, you should have the two services being routed through traefik with SSL support available at https://nextcloud.docker.localhost and https://gitlab.docker.localhost and traefik dashboard, available at localhost:8080, should look something like this: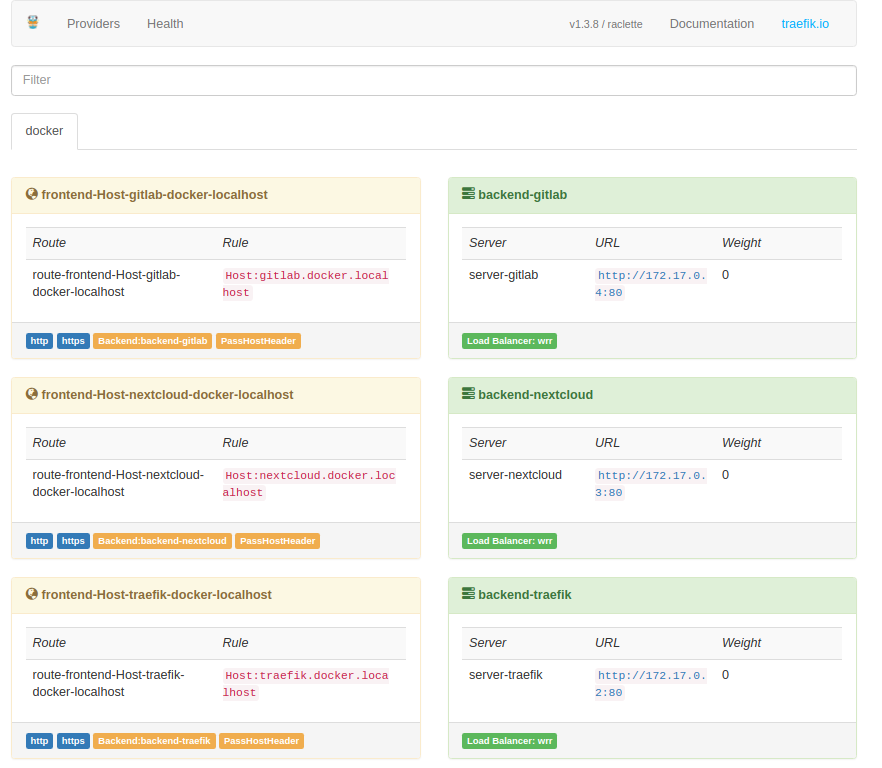 Try exploring the "Health" tab on dashboard and see what kind of metrics it offers.
Conclusion
With this exercise, we observed that traefix automatically picked up and published new services to a different subdomain along with SSL support and load balancing.
Traefix shows logging and metrics about service health and status on dashboard.
Traefix is simple enough that getting started and deploying multiple services, only takes a few minutes yet robust enough to offer wide range of features and configurations.
Links: